Lewis Hamilton sets the fastest time of the weekend so far while Felipe Massa was sneaking in second place.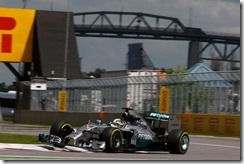 Hamilton was 0.476 seconds quicker than Massa and 0.51secs clear of team-mate and title rival Nico Rosberg who had to settle for third.
Ferrari's Fernando Alonso was fourth, 0.878secs behind Hamilton, and ahead of Red Bull's Daniel Ricciardo and the sister Ferrari of Kimi Raikkonen.
Williams' Valtteri Bottas was seventh, ahead of the Toro Rossos drivers Daniil Kvyat and Jean-Eric Vergne.
| | | | | |
| --- | --- | --- | --- | --- |
| Pos. | Drivers | Teams | Time | Laps |
| 01. | 44 – Lewis Hamilton | Mercedes AMG Petronas | 1:15.610 | 18 |
| 02. | 19 – Felipe Massa | Williams Martini Racing | 1:16.086 | 16 |
| 03. | 06 – Nico Rosberg | Mercedes AMG Petronas | 1:16.120 | 20 |
| 04. | 14 – Fernando Alonso | Scuderia Ferrari | 1:16.488 | 15 |
| 05. | 03 – Daniel Ricciardo | Red Bull Racing | 1:16.504 | 15 |
| 06. | 07 – Kimi Raikkonen | Scuderia Ferrari | 1:16.528 | 22 |
| 07. | 77 – Valtteri Bottas | Williams Martini Racing | 1:16.684 | 20 |
| 08. | 26 – Daniil Kvyat | Scuderia Toro Rosso | 1:16.820 | 21 |
| 09. | 25 – Jean-Eric Vergne | Scuderia Toro Rosso | 1:16.824 | 19 |
| 10. | 01 – Sebastian Vettel | Red Bull Racing | 1:16.884 | 15 |
| 11. | 27 – Nico Hulkenberg | Sahara Force India | 1:16.944 | 17 |
| 12. | 20 – Kevin Magnussen | McLaren F1 | 1:16.993 | 19 |
| 13. | 08 – Romain Grosjean | Lotus F1 Team | 1:17.121 | 21 |
| 14. | 11 – Sergio Perez | Sahara Force India | 1:17.188 | 19 |
| 15. | 13 – Pastor Maldonado | Scuderia Toro Rosso | 1:17.224 | 21 |
| 16. | 22 – Jenson Button | McLaren F1 | 1:17.360 | 23 |
| 17. | 99 – Adrian Sutil | Sauber F1 Team | 1:17.900 | 23 |
| 18. | 17 – Jules Bianchi | Marussia F1 Team | 1:18.518 | 25 |
| 19. | 04 – Max Chilton | Marussia F1 Team | 1:18.525 | 19 |
| 20. | 09 – Marcus Ericsson | Caterham F1 Team | 1:19.865 | 23 |
| 21. | 10 – Kamui Kobayashi | Caterham F1 Team | 1:20.227 | 14 |
| 22. | 21 – Esteban Gutierrez | Sauber F1 Team | 1:22.388 | 6 |