Marussia has been thrown into the spotlight as more information reportedly emerges about Jules Bianchi's tragic Suzuka crash.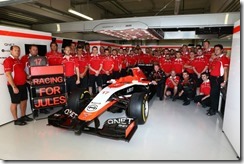 Germany's Sport Bild claims an FIA transmission recorded at the time of the Frenchman's incident said: "Bianchi did not slow down under yellow". The magazine also accuses Marussia of urging Bianchi – who is still fighting for his life in hospital in Japan – to push hard to recover a gap to Caterham's Marcus Ericsson. Sport Bild's correspondents said the radio messages, not mentioned by race director Charlie Whiting during his media briefing at Sochi last week, were recorded.
The revelations came at the same time as quadruple world champion Alain Prost stepped up his criticism of the governing FIA in the wake of the Bianchi crash. "It is cars and tracks (that have been improved)," he is quoted by the Telegraph, "and there was only one thing left: it was this fu**ing truck on the track. "I was furious," the Frenchman reportedly added. In his Sochi briefing, Whiting denied Felipe Massa's claims that the Brazilian was "screaming" on the radio at the time of Bianchi's crash for the race to be stopped due to worsening conditions. "That's not true," Whiting insisted, according to Speed Week. "We recorded everything. He (Massa) said once: 'The rain conditions are getting worse'."
Told of Whiting's denial, however, Massa insists he called for the race to be stopped. "It's the truth," he said. "I screamed and was quite aggressive. "I'm not sure if he heard what I said, but I said it was unacceptable and too dangerous to drive in such conditions," Massa added.
Sportwoche, an Austrian publication, claims doctors have discussed with Bianchi's parents the prospect of switching off the Marussia driver's life support systems in Japan, such is the apparent extent of his brain injuries. It is clearly still a time of high emotions in F1 circles.
After a group of smiling drivers photographed themselves enjoying a party aboard their private jet home from Russia, the headline in the Swiss newspaper Blick wondered: "Have they forgotten Bianchi already?" FIA president Jean Todt has even come under fire for shaking every F1 driver's hand on the Sochi grid except the disgruntled Ferrari driver Fernando Alonso's. Todt hit back by revealing he actually hugged the Spaniard beforehand. Spain's AS newspaper quoted FIA spokesman Matteo Bonciani as saying Todt was "devastated" by the Alonso snub claims at a time when their mutual friend Bianchi is in a critical condition.
Meanwhile, Marussia sporting boss Graeme Lowdon is not commenting on rumours Californian Alexander Rossi is the obvious choice when the team returns to a two-car operation in Austin in three weeks. "Let's use this time to decide what is the best solution," he said.