According to the Kolner Express tabloid, F1 legend Niki Lauda raised an eyebrow in Russia when he spotted Lewis Hamilton's latest accessory — an enormous gold chain.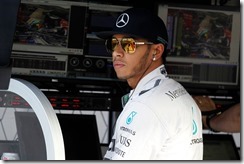 The championship leader reportedly told his Mercedes boss: "It's all gold and weighs a kilogram!" Express claims the jewellery cost Hamilton EUR 45,000. Lauda said: "We have one normal driver, and one who is a bit different."
Elsewhere in the F1 press early this week, a Finnish journalist has hit back at Spanish reports that claim Kimi Raikkonen ran amok after drinking too much during his flight from Tokyo to Moscow after the recent Japanese grand prix. But Oskari Saari, a commentator for Finland's MTV3, said the Spanish newspaper did not even get the details of the flight correct, as Raikkonen had actually travelled from Nagoya to Helsinki after the race in Japan.
Saari said he knows because he was also on the plane. "He (Raikkonen) sat down and went to sleep, and I don't remember him waking up even once," he insisted.