All 700 staff members at Mercedes' Brackley headquarters will bank a tasty bonus as a reward for securing the constructors' world championship in Russia, British newspapers report.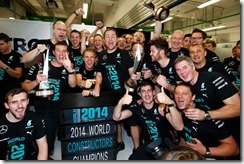 The reports say the bonus is a minimum of 10,000 British pounds, or $16,000, which altogether will cost the German marque over $11 million — not including any higher bonuses due to upper management or the drivers. But Mercedes can afford it, given that the team is expected to take home over $60 million in official F1 prize-money for topping the title charts in 2014.
The news about bonuses emerged after bosses Toto Wolff and Niki Lauda spoke to their employees at Mercedes' Brackley headquarters on Monday. And the team's gift to the F1 world more widely could be the lifting of any instructions to drivers Lewis Hamilton and Nico Rosberg over the remaining three races of the season in Austin, Brazil and Abu Dhabi.
That is because Red Bull's Christian Horner has conceded that Daniel Ricciardo's already slim hopes of beating either silver-clad driver to the drivers' title is now even mathematically almost impossible. "If you look at the points," agreed Wolff, "we have made a massive step toward the drivers' title because we are 92 points ahead of Ricciardo with 100 left. "So we could be coming into a situation which everybody would love of course in being safe to let them race in the way they want to race."
Wolff insisted Hamilton and Rosberg were already free to race, but they had been slightly reigned in after their clash at Spa four grands prix ago. "There is still this invisible little leash," he admitted, "and maybe we can get rid of it completely."