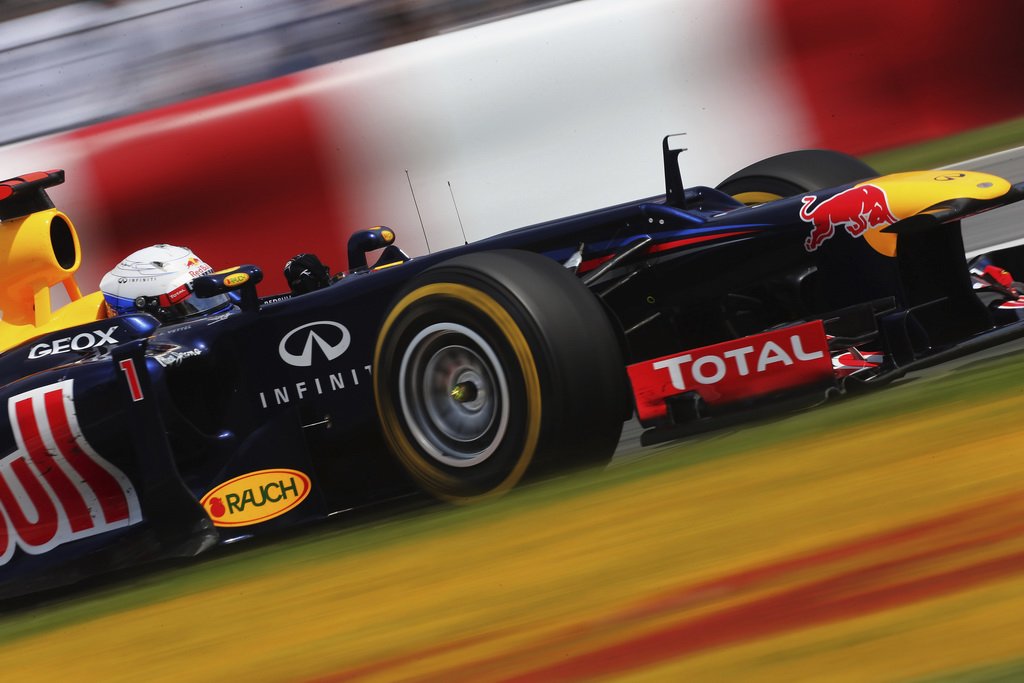 Red Bull had two very different F1 qualifying results today with Vettel taking pole, and Webber failing to get into Q2.
The headline result from the qualifying session for the 2012 Formula 1 European Grand Prix is that Sebastian Vettel has taken his third pole position of the year.
While the rest of the field were fighting for positions by hundreds of a second, Sebastian managed to pull out an astonishing lap that put him over three tenths of a second above second place Lewis Hamilton.
Mark Webber meanwhile had a qualifying result to forget. The Australian claimed that a failing DRS system on his RB8 lost him vital time, dropping the driver out of qualifying prematurely, and so he starts way back in nineteenth.
Sebastian Vettel: "I think it was a great recovery from Q1 and Q2 today, as I didn't feel entirely happy in those. It had been a good weekend leading up to qualifying, but conditions changed before Q1. However in the end we pulled it altogether. Everyone has worked very hard with preparing new parts for the car, which seem to be step forward. Bringing new parts is not always straightforward, as we've seen. Often people try things on Friday, but then go back to their previous set up for the weekend. However this weekend we seem to have made a step forward, although we will give them a proper try tomorrow. We have been good here in previous years, so hopefully we can keep it up for tomorrow. The guys deserve that, they have worked hard all weekend."
Mark Webber: "I had no DRS, which costs about 1.3 second per lap and made it difficult. The car's put up a big fight today, we only managed to do four laps and three of those were in qualifying. In the first qualifying session we did one lap on the harder tyre and then went out on the soft tyre to try and get through as it was so tight. The lap time actually wasn't too bad considering we didn't have DRS, but it doesn't do anything to help the situation. We have a lot to do tomorrow. We were hoping to fix the DRS for Q2 but we didn't make the cut; we should be able to fix it for tomorrow."
Christian Horner: "After such a tight qualifying, where at stages the top seven cars were covered by less than a tenth of a second, for Sebastian to deliver a final lap that put him four tenths clear was a remarkable effort. It has earned him his 33rd pole, meaning he matches Jim Clark and Alain Prost, which are two extremely illustrious names. It was contrasting fortune for Mark who, after a difficult morning, had a hydraulic issue with the DRS which prevented him from using it. Nonetheless, he came very close to making the jump into Q2 without it. I'm sure he will have an attacking race from there tomorrow – he's proved before that he can come through the field and we've got no doubt he'll do that tomorrow."
Source: Red Bull Racing & Getty Images