The F1 season will get off to a late start next year.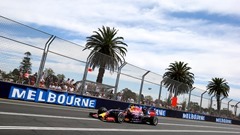 Australian media reports say the Melbourne race, which is guaranteed the opening spot on the sport's annual calendar, will be held on April 3, 2016. In the past few years, the season-opening Australian grand prix has been held a couple of weeks earlier, in mid-March.
AAP news agency said the 2016 change is due to daylight savings. "The revised 2016 date will see the event follow Easter and take place after daylight savings, the absence of which will see the race start earlier in the day," race organisers confirmed.
The Albert Park promoters also confirmed that the April start will "condense the season" on the 2016 calendar, which will conclude as per usual in November. "The new date will see an earlier start time, and fans can expect the same great on-track action and off-track entertainment across the four days," said Australian Grand Prix Corporation chief Andrew Westacott. The full 2016 calendar has not been revealed.