NASCAR team owner Gene Haas on his new F1 team: "If I can achieve an extra billion in sales, we will pay for whatever F1 costs,"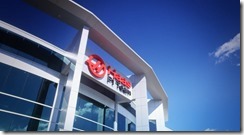 NASCAR Sprint Cup Series owner Gene Haas announced his arrival in Formula One by establishing the new Haas F1 Team in April this year. In a new interview, he speaks to CNN's monthly Formula One programme 'The Circuit' about his expectations upon entering the industry:
•       While new teams often struggle, Haas plans to double the profits of his billion dollar company to two billion dollars a year.
•       Haas doesn't mind being looked at, as 'Ferrari's B-Team'.
•       He would consider the Haas Formula One venture successful if they were able to win a race within the first five years.
ON DOUBLING HIS PROFITS: "You know, I'm trying to expand… like a billion dollar company and my goals to get to two billion dollars a year… and that's really my goal. If I can achieve that and achieve an extra billion in sales, we will pay for whatever the formula one cost… it's basically a continuation of NASCAR racing for me, as far as racing in the United States… if we want to race worldwide, the only way is Formula One."
ON F1 BEING HIS BIGGEST CHALLENGE YET: "Well, certainly the biggest challenge, yeah… but I guess I don't have any doubts that we can do it… people keep saying "are you going to fail…" I don't even really think about it. I think to me it's just a challenge, it's something that you need to do… and it can be done… I know it's hard, but like I say, don't give up… just keep banging your head against the wall until you open the door."
ON WHY HE CHOSE A RELATIONSHIP WITH FERRARI: "I think Ferrari was just more accommodating, who know… surprisingly, Ferrari wanted to go beyond an engine supplier and they were going to actually help us with a lot of the basic structures of the car, (and that also was because the FIA came up with these… rules as far as what you could purchase. Now, I mean, we can purchase more and more from outside suppliers than we could before.)
ON BEING DESCRIBED AS FERRARI'S B-TEAM: "We would be very proud to be a Ferrari b-team… that would certainly teach us how to run in Formula One… and we quite frankly will take all the help they can give us, because you can't really get better than Ferrari."
ON WHAT HE CONSIDERS A SUCCESFUL F1 VENTURE: "I think for the first five years is just surviving, don't have any expectations of grandeur that we are going to go out there and win championships. If we even win a race in 5 years, I think that would be a tremendous success…. Just the association of being with Formula One basically takes our brand from nobody to the stratosphere… and if we struggle at it, maybe we will get more notoriety about it… but sooner or later we will march up… I'm not expecting to beat anybody, just maybe the guys at the back."
ON HOW IMPORTANT IT WOULD BE TO HAVE AN AMERICAN DRIVING THEIR CARS: "I tell you… an American team, with an American driver would be simply hitting it out of the ball park as media would be concerned and we would love to do that".
Read more here: http://cnn.it/1x8JpZA
Video: http://cnn.it/10n7WQE
Info: CNN's The Circuit