Fernando Alonso will widely be remembered as one of the greatest Formula One drivers of all time.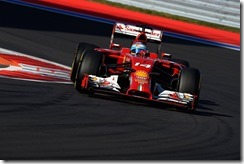 The Spaniard has two Drivers' Championships to his name, and has finished runner-up on a further three occasions. Since starting karting at the spritely age of three, Alonso has gone on to embark on a stellar career. In the right car he is the only driver who can match Lewis Hamilton in speed and talent.
Unfortunately for the 33-year-old he hasn't had the right car in recent times. Despite finishing second with Ferrari last season he hasn't been competitive for some time. Red Bull and Sebastian Vettel have dominated F1 in recent years. Their recent capitulation did leave a space open at the top, this space, however, was occupied by Mercedes. The Ferrari, by contrast, has severely fallen by the wayside. This season Alonso finds himself in sixth place with just two podium finishes to his name.
Considering his age and his concerns about Ferrari's ability to produce a competitive car Alonso has decided to part ways with the Italian company. His spot will be taken by Vettel, who will be replaced at Red Bull by Toro Rosso driver Dani Kyvat.
Alonso now has two choices. Does he go to McLaren, who are making serious overtures to bring the driver back to Woking, or does he take a sabbatical and hope that Mercedes offer him a seat for the 2016 season?
There are advantages and disadvantages to either idea. So which should Alonso opt for?
McLaren
McLaren are currently powered by Mercedes engines but next season will be returning to Honda engines for the first time since the 1992 season. The partnership with Honda was very fruitful for McLaren. It was the era of Alain Prost and Ayrton Senna, a time where McLaren had near dominion of the racing landscape. Honda supplied McLaren with engines for five seasons, the 1992 season was the only time that McLaren failed to win the Constructors' or Drivers' Championship, having won both in the first four years of the partnership.
The return of Honda to McLaren has to be very appealing to Alonso. Honda have always been one of the most innovative companies involved in F1. Granted, as a team they were underwhelming but as a supplier, they are brilliant. Right now, Mercedes are the only company capable of creating an engine that is both competitive and in fitting with the regulations. Renault and Ferrari have proven to be hopelessly inept, Honda will not. Insiders are stating the Japanese company's hybrid engine is looking very strong in tests, and that they have also been aided by being able to compare it with the current Mercedes engine. With a Honda powered car Alonso could have his best chance of winning a third championship.
Wherever Alonso goes he has to be made the top dog. It was for this reason his brief foray at McLaren did not work. When he joined for the 2007 season he was the number one driver. By the third race, Bahrain, this position was in serious jeopardy. The emergence of Lewis Hamilton – the favourite with Betfair to secure what would be a second Drivers Championship – was unexpected and it did appear that the British team moved to get behind the British driver, rather than Alonso. That was then this is now. Alonso will arrive at McLaren as the undisputed No. 1 driver. Jenson Button will be allowed to leave and Kevin Magnussen is by no means ready to lead an F1 side. His sole use will be to provide support to Alonso. This time, Alonso will have the security and support that he craves.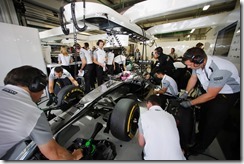 However, Alonso left McLaren in unceremonious circumstances. Slighted by the team's support for the younger Hamilton, Alonso was involved in a huge argument with McLaren supremo Rod Dennis, threatening to blow the whistle on McLaren's espionage of bitter rivals Ferrari. Alonso will remember his acrimonious departure well and may be reluctant to want to work with Dennis again. Dennis is as fiery as Alonso and has no qualms in critiquing his drivers… just ask Jenson Button.
McLaren offer Alonso a No. 1 seat in what could potentially be a very fast car, however, it does mean that Alonso will have to return to a team that he once resented. It will take a swallowing of pride but after that there is no reason why Alonso and McLaren could not have a beneficial working relationship.
Sabbatical
The riskier of the two choices but one that Alonso is giving serious consideration.
For one, this has been Alonso's 14th consecutive year in Formula One – he is in due need of a rest. A year out will allow his body to recover. Mentally it would work wonders. Alonso will be free from the constraints of being a motor driver. Instead of travelling he will be able to recuperate with his family. We have seen numerous drivers take time out of the sport before returning, Michael Schumacher being the most recent example. If Alonso believes that his body needs a break then he should not hesitate in taking a break.
Rumours are also circulating that McLaren are prepping a monster contract to try and entice Lewis Hamilton into coming home. The Mercedes driver is contracted to the side until 2015 and talks of a new contract are yet to take place. If Hamilton were to consider moving back to McLaren, a side that he holds very dear in his heart, then Alonso will be well placed to take his seat in what is looking like the team to be with in the upcoming years.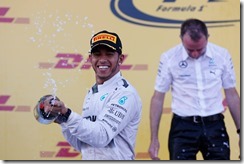 However, there are serious risks attached to waiting it out. The biggest and most obvious being Hamilton signing a new deal, which would leave Alonso in limbo, especially if he had opted for time off. Not only would his preferred seat be taken, but, he would have no seat at McLaren, meaning he would either have to go to a side that he views are beneath him, or retire from the sport completely.
Then there is the age concern, which ties in with the latest point. Alonso will be 34-years-old come July of next years, can he afford to take a year out? If he doesn't get a seat through his own doing, that will mean that he will be 35-years-old during the 2016 season. Hardly an age F1 teams gravitate towards. Taking a year out could make Alonso too old to realistically return.
It has been said that Alonso favours being the No. 1 driver. At McLaren he is assured of this, at Mercedes he is not. Nico Rosberg has been a loyal servant for the side and if Hamilton was to go he would be bumped up to No. 1. Now that he is proven himself as a title contender Mercedes have no excuse for making another non-German their lead driver.
Conclusion
There's really only one option available for Alonso, and that is a return to McLaren. The talk surrounding a move to Mercedes is far too speculative and one that probably won't happen. Why would Mercedes, who will probably be celebrating a second Constructors' Championship in 2015, want to look to a veteran when they could blood in a promising talent? No, McLaren is the only viable option for the Spaniard.