Romain Grosjean has revealed an exit clause will allow him to walk away from Lotus at the end of the season.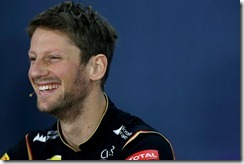 Insiders believe the Frenchman, obviously frustrated by the Enstone team's struggles in 2014, is waiting for the Fernando Alonso situation to clear before re-committing to Lotus for another season. Some think he is obviously hoping for a seat at McLaren, where his mentor Eric Boullier is now the team boss.
Asked by France's RMC if he will benefit from Lotus' switch from Renault to Mercedes power for 2015, 28-year-old Grosjean answered: "I can actually be with this project. "Since May or June I've been screaming that the 2015 Lotus must be better than 2014, and many things have been done in the right way. "There is a good chance I will stay at Lotus, but there are still a few opportunities elsewhere. I will not say more," Grosjean insisted.
Then, in the official FIA press conference in Austin, Grosjean declared that the fact Lotus is testing a Mercedes-style 2015 nose ahead of the US grand prix is "a strong sign" of the team's impending recovery. "I have a contract with the team," he revealed. "I have the option to leave if I want to — this is from some performance clause. "So far there are still places available at top teams or they haven't been confirmed and that's where I want to be in the near future and that's what we try to do," Grosjean added.
In yet another interview in Austin, this time with F1's official website, Grosjean repeated his possession of an "option to walk out" on Lotus. "It is no secret that I want to be part of a big team – which is Ferrari, McLaren or Mercedes – and some of them haven't announced their 2015 lineup yet, so there is still hope as I want to join such a team by 2015, latest 2016," said the Frenchman. "If I stay (at Lotus) I am happy to stay as I think we can probably taste champagne again — a few times! But I want to be champion and to achieve that I have to move on," Grosjean added.
Although undoubtedly waiting on Alonso's next move, Grosjean also admitted he is keeping an eye on the 'three cars' story for 2015, given the recent collapse of backmarkers Caterham and Marussia. "If you put it (a third car) on a good team and you're racing in the same cars as what we call the superstars, then it gives you an opportunity to show how strong you are and then get called one of those superstars," he smiled. "A third car would certainly help some of us to have a good reputation."