Bernie Ecclestone says India could return to the F1 calendar in 2016.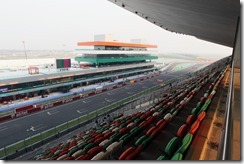 Last week, a senior official at the former race promoter Jaypee said the organisation is "trying our best to hold the race by 2017". New Delhi hosted three consecutive races until 2013, but fell off the calendar this year amid financial issues and complex governmental hurdles relating to tax and red tape.
A senior official has now told the Indian news agency PTI that Jaypee has been working "desperately" to revive the race at the Buddh circuit. "Recently, our top boss Sameer Gaur had a meeting with Bernie Ecclestone in Sochi on bringing the race back to India," he said. "They had a fruitful discussion, and if everything goes accordingly, then the Indian GP should go once again in 2016." F1 chief executive Ecclestone confirmed: "We had a fruitful meeting in Russia. "I was assured that the tax and other related problems will be sorted out in due course and then we are good to go back. "It is too late for 2015 now," Ecclestone added, "so we are working on 2016."
Gaur also confirmed the news, revealing the talks in Russia had put the promoters and F1 officials back "on the same page". "While 2015 looks tough as the calendar is more or less final, we should look at 2016 as the year for the return," he added. It is reported that the sudden revival of India's fortunes is due to a change in government, after the previous administration did not recognise F1 as a sport for tax reasons. "Since the present government is encouraging several international events, the Indian GP could be a beneficiary," an official confirmed.
But with Azerbaijan arriving on the calendar next year and India now back on the cards, the prospect of an even busier schedule may not be popular among F1 teams. "Will it be really possible to hold 22 races a year?" said an official.