Caterham's administrators have reappointed Kamui Kobayashi to contest the 2014 finale in Abu Dhabi next weekend.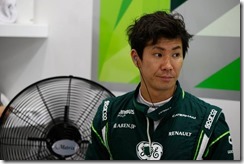 The beleaguered backmarker team missed Austin and Brazil amid its high-profile fight for survival, but a controversial crowdfunding scheme means the green cars will be back for the last race of the season. Prior to the team entering administration, there had been doubt Japanese Kobayashi would race again for Caterham.
The now-departed Colin Kolles-led management is believed to have fallen out with the 28-year-old after the team's last appearance in Russia, when Kobayashi retired from the race. Kobayashi had described his Sochi weekend as "scary" after Caterham made carbon repairs to the suspension on his car, after the driver claimed he retired from the race due to a shortage of parts. Former team boss Manfredi Ravetto responded by saying he was "very surprised" by Kobayashi's comments. With administrator Finbarr O'Connell now the interim team boss, however, Kobayashi will race in Abu Dhabi, Caterham announced late on Sunday.
That is despite a worried Kobayashi having told his personal friends on Facebook during the Sochi weekend: "As a racing driver, should I drive? Should I safely decline?" In an official team statement, he now says: "I am happy to be racing with the team in Abu Dhabi. It hasn't been an easy last few weeks, so it will be nice to be back to in the car and work together with the Caterham team members. "We will all try our best during the weekend ahead and hopefully we can end the season with a positive result for the future of this team." Interim boss O'Connell said: "The team commented that Kamui is a highly talented racing driver and he should be in a race car — that's where he belongs. "After the recent period of uncertainty for Caterham, the team are delighted, as part of its restructuring plan, to be able to showcase the cars again and what better way than with world renowned drivers like Kamui."
The identity of Kobayashi's teammate remains unclear, after regular racer Marcus Ericsson, who has signed for Sauber in 2015, terminated his contract last week. Reports suggest Le Mans winner Andre Lotterer, who raced at Spa in August, was asked to return to the cockpit for Abu Dhabi but has turned it down. The management of Spanish rookie Roberto Merhi, who appeared in Friday morning sessions during the Kolles reign, reportedly claims to have a contract to race if Kobayashi or Ericsson do not appear. But Caterham said late on Sunday night: "The second driver to race alongside Kamui will be announced in due course."