Nico Rosberg sets the pace in Malaysia as Hamilton hits trouble.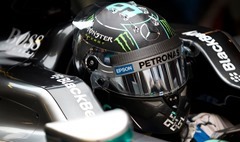 An engine problem stopped Hamilton on track after just four laps and with no time set.
Kimi Raikkonen was second, for Ferrari improving by half a second at the very end of the session to move to just 0.373s behind Nico Rosberg.
Fernando Alonso was 14th for McLaren on his first race appearance this year, while team-mate Jenson Button was 17th.
| | | | | |
| --- | --- | --- | --- | --- |
| Pos. | Drivers | Teams | Time | Laps |
| 01. | 06 – Nico Rosberg | Mercedes AMG Petronas | 1:40.124 | 20 |
| 02. | 07 – Kimi Raikkonen | Scuderia Ferrari | 1:40.497 | 17 |
| 03. | 05 – Sebastian Vettel | Scuderia Ferrari | 1:40.985 | 13 |
| 04. | 08 – Romain Grosjean | Lotus F1 Team | 1:41.543 | 14 |
| 05. | 55 – Carlos Sainz | Scuderia Toro Rosso | 1:41.596 | 26 |
| 06. | 03 – Daniel Ricciardo | Red Bull Racing | 1:41.787 | 15 |
| 07. | 33 – Max Verstappen | Scuderia Toro Rosso | 1:41.803 | 23 |
| 08. | 77 – Valtteri Bottas | Williams Martini Racing | 1:41.882 | 23 |
| 09. | 26 – Daniil Kvyat | Red Bull Racing | 1:42.055 | 18 |
| 10. | 09 – Marcus Ericsson | Sauber F1 Team | 1:42.064 | 16 |
| 11. | 19 – Felipe Massa | Williams Martini Racing | 1:42.103 | 23 |
| 12. | 13 – Pastor Maldonado | Lotus F1 Team | 1:42.567 | 19 |
| 13. | 00 – Raffaele Marciello | Sauber F1 Team | 1:42.621 | 13 |
| 14. | 14 – Fernando Alonso | McLaren Honda | 1:42.885 | 20 |
| 15. | 27 – Nico Hulkenberg | Sahara Force India | 1:42.893 | 13 |
| 16. | 11 – Sergio Perez | Sahara Force India | 1:43.054 | 15 |
| 17. | 22 – Jenson Button | McLaren Honda | 1:43.100 | 19 |
| 18. | 28 – Will Stevens | Manor F1 Team | 1:46.686 | 8 |
| 19. | 98 – Roberto Mehri | Manor F1 Team | 1:47.683 | 8 |
| 20. | 44 – Lewis Hamilton | Mercedes AMG Petronas | no time | 4 |