The Red Bull team finished the last grand prix in a less than ideal position. Having problems with the setup of both cars Sebastian Vettel managed to classify 8th while his teammate didn't make it to Q3 for the first time this year.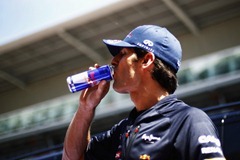 On Sunday Red Bull had a fairly good race pace but they failed to match the top three cars. Following Barcelona's Grand Prix Sebastian Vettel leads the championship having the same amount of points as Fernando Alonso while Mark Webber is 5th with 13 less points than the leader.
Now both drivers are looking forward to the Monaco Grand Prix and they are both seeking victory there in order to increase/cut the gap with their rivals.
Mark Webber: "Monaco is a really special track, it's an old circuit in terms of when it was first designed and the layout hasn't changed too much since. It's got a bit easier from when I first joined Formula One ten years ago, but it's still a test of man against the track and with the car. You're racing other people, but it doesn't always feel like it because the track is always asking you to give more. If you bite and try to give it more then you crash so it's a very, very challenging circuit mentally. Physically it's quite straightforward, but in the mind you need to be very disciplined and that's the challenge around Monaco."
Sebastian Vettel: "It's something special to race in Monaco; it's tight and there's no room for error. It's rough and, as it's a street circuit, the road surface is uneven so you get shaken in the car and there is no room for mistakes. You have to push yourself and the car to the limit to be fast, you have to push as hard as on other tracks, but there's no room. You can almost feel it when you are just missing the wall and just get through – but it's a nice feeling. You need to be fully focused on track, it's a special thing to win in Monaco."
Info: Red Bull Racing, Image: Getty Images/Red Bull Content Pool