Marussia is yet to declare how it will tackle this weekend's Russian grand prix, as its race driver Jules Bianchi lies comatose in Japan.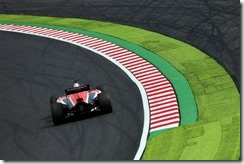 In the few days since the French driver's horror crash at Suzuka, the Russian-branded, UK based team has focused almost completely on supporting the seriously injured Bianchi. Nonetheless, team personnel have travelled the 8,000 kilometres to Sochi, where mechanics on Wednesday could be seen working on two race cars in the garages ahead of the inaugural Russian grand prix at the all-new Sochi Autodrom.
The name 'Jules Bianchi' is still visible above one of the Marussia garages. At time of writing, Marussia has not said publicly how it will tackle the race, but France's RMC Sport claims the team has considered simply sitting out Sochi altogether. Also reportedly considered by the John Booth-led team is to field just one car for Bianchi's teammate Max Chilton, or to replace the stricken Bianchi with newly-signed reserve driver Alexander Rossi.
American Rossi travelled to Russia on Wednesday. "The decision will be made official in the coming hours," said RMC. The FIA has listed boss Booth as one of the attendees at the official press conference on Friday, but the Briton is still at Bianchi's bedside in Japan and not expected to be in Russia all weekend. Sporting director Graeme Lowdon, also in Japan until very recently, has now travelled to Sochi to oversee the team's preparations for the Russian grand prix.