As F1 drivers prepare to set out for the first ever practice action in Russia, it is still not clear how Marussia will tackle the weekend mere days after Jules Bianchi's crash.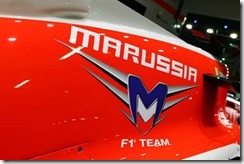 It emerged at Sochi late on Thursday that the team has prepared two cars for the weekend, and nominated reserve Alexander Rossi to drive in the seriously injured Frenchman's place. "He is the only available driver with a super license," a team source is quoted by Germany's Auto Motor und Sport.
But authoritative sources insist Marussia is still not decided as to whether to field Rossi alongside Max Chilton, run just a single car for Chilton, or pull out of the race weekend altogether. The Telegraph claims the decision will depend partly on the views of Bianchi's parents on site in Japan, and the condition of the team's 25-year-old driver. Also part of the decision will be Chilton, who did not speak to the media on Thursday. The British driver is, however, in Russia and on Thursday jogged a lap of the new F1 circuit.
Bernie Ecclestone is believed to have told Marussia that, in light of the circumstances, the decision about how to tackle the weekend is entirely up to the team. That is despite the obligation under normal circumstances for teams to field two cars at every race on the calendar. "(Marussia) executives spoke warmly of Ecclestone's emotional support," said correspondent Daniel Johnson.
Johnson added that "the impression given by sources at the team is that one car will run this weekend". Indeed, less than an hour before Friday morning practice, Chilton's car was being prepared as per normal while the sister car is fully built but bearing Bianchi's number 17 stickers. Rossi's official F1 number is 42.