Although disappointed, Toto Wolff had to chuckle late on Sunday when asked if Malaysia signalled the "end of an era" in formula one.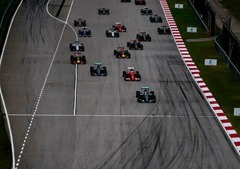 Although it was somewhat of a jibe at his former teammate Daniel Ricciardo and team Red Bull, Sebastian Vettel observed that his win for Ferrari was arguably the "first time Mercedes got beaten fair and square" in the new turbo V6 era. But is it premature to say the 'era' of Mercedes' domination is now over? "Formula one is a bit extreme sometimes, isn't it?" team boss Wolff marvelled. "In Australia, so many people said we were going to win all the races this season. Now already we are talking about the 'end of an era'!"
He did admit, however, that Malaysia might be remembered as a "wake-up call" to Mercedes, who did not expect to be so strongly challenged by Ferrari.
So does the German team, not long ago accused of 'sandbagging', now need to throw more power at its 2015 car? "I read somewhere that Ferrari is spending EUR 100 million more to return to victory lane," Wolff is quoted by Speed Week. "All I can say is that for us, we have all the resources we need to win. Maybe we will bring in some developments ahead of schedule. But I see no reason to panic."
Indeed, there are some mitigating factors. Lewis Hamilton and Nico Rosberg spoke of some confusion and strategy mistakes made by those on the pitwall. Melbourne winner and pole sitter Hamilton was not happy with the balance of his W06 after sitting out most of Friday practice with a technical problem.
And Ferrari enjoyed the searing heat of Malaysia, playing into its already good management of the Pirelli tyres. Even Ferrari technical chief James Allison admitted: "I am fairly sure we will have our work cut out in China to do anything like as impressive a job as we have done here."
Vettel, now just three points behind Hamilton in the title standings, agrees. "We have to be realistic," said the German. "They (Mercedes) had a very big gap in winter testing and in the first race, which does not just evaporate. "Our target has to be that the gap between them and us keeps getting smaller, as the gap will still be there," added Vettel.