Claire Williams has denied the British team simply lucked into being powered by the best F1 engine for the sport's new turbo V6 era.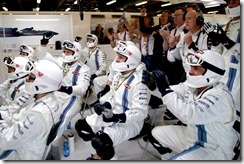 Having struggled to just ninth in the 2013 standings with Renault power, Grove based Williams is now working with the field-leading Mercedes. And the FW36 is regarded as probably the best 2014 car behind the works Mercedes. Some think Williams simply lucked into the best engine for the revolutionary new era, but deputy boss Claire Williams insists that is not so.
"We were in our second year with Renault after a long history with them," she is quoted by Brazil's Totalrace. "But we did a huge amount of research into understanding how Renault and the other manufacturers would go with the rule changes. "It was obvious early last year where some of the manufacturers were in the developmental stage," Williams explained. "We talked with Renault and Mercedes about it, and we decided to go with Mercedes. It was a very conscious decision," she added.
Williams admitted that the team's close ties to Mercedes' Toto Wolff – still a co-owner and also husband of test driver Susie – helped the talks along. "We were able to exchange information with him," she revealed.