The Mercedes AMG Petronas driver Nico Rosberg will start tomorrows Formula 1 Chinese Grand Prix from pole position, and he will be accompanied on the first row of the grid by his teammate Michael Schumacher.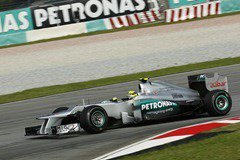 Nico had to wait 110 F1 grands prix to score his first pole position and all came down after an electrifying qualifying session when he was faster then everybody else with more than half a second.
Because of the innovative W-Duct that Mercedes W03 uses and taking advantage of the long strait lines that the Shanghai International Circuit offers Nico was able to drive the wheels off his Mercedes stopping the clock at: 1:34.121 and putting a huge distance between him and the next competitor who turned out to be Lewis Hamilton. Unfortunately for the McLaren driver he will start only 7th because the team had to replace the gearbox of his F1 car.
Because Lewis got penalised, the front grid of the Chinese Grand Prix will be locked down by a single team as it happen in the previous two races of the championship but this time it will not be McLaren but Mercedes AMG.
Kamui Kobayashi will start tomorrow's race third, confirming once more the excellent form of the Sauber F1 Team behind him are Kimi Raikkonen who is disappointed by the car performance, Jenson Button, and Mark Webber. Sergio Perez will start 8th just in front of Fernando Alonso who only qualified 9th in his struggling for grip F2012 while the last of the Q3 runners is Romain Grosjean who did not make an qualifying run in the last session.
Sebastian Vettel strategy to continue and use the first evolution of exhaust used by RB8 in winter test turned out to be a poor one because the Red Bull driver failed to get out of the Q2. The German was behind Fernando Alonso with just 0.049s but it was enough to place him on 11th position being the first time since Brazil 2009 when Vettel fails to enter Q3.
Sharing the 6th grid line with Vettel is Felipe Massa who failed once more to get into Q3 confirming the lack of pace that Ferrari has.
Behind them all grid lines are locked up team by team with Williams leading the way then Force India and Toro Rosso. Jean Eric Vergne was again out qualified by Daniel Ricciardo and failed to get to Q2.
The last six positions of the F1 grid belong to the usual suspects of the back Caterham, Marussia and HRT F1 Team.
Also we need to acknowledge that this year Glock, De La Rosa, Kovalainen, Maldonado, Ricciardo, Alonso, Hamilton and Webber have always classified ahead of their teammates.
Image: Mercedes AMG
Full 2012 Chinese GP Qualifying Results