Daniel Ricciardo's seat at Red Bull is secure beyond 2014, team boss Christian Horner has confirmed.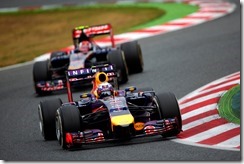 Australian Ricciardo graduated this year from the energy drink company's second team Toro Rosso to replace his retiring countryman Mark Webber. Team figures have said they were "surprised" by how quickly the 24-year-old settled in — and how consistently quick he has proved alongside world champion Sebastian Vettel. "Although Sebastian has had a lot of bad luck this year," said team owner Dietrich Mateschitz last week, "Daniel has surprised everyone by showing no weaknesses from day one. "We were criticised when we gave Daniel this opportunity," he added, referring to Red Bull's deliberations last year over signing Kimi Raikkonen instead. "But our decision was right," Mateschitz insisted.
As with all Red Bull-groomed athletes, Ricciardo has a long-term contract, but his place at the reigning world champion team also appears more than secure. "I can't speak highly enough of what Dan has done in the first five races and managing this pairing is a walk in the park compared to previous years," team boss Christian Horner said. "We've always believed in continuity and stability," he is quoted by the Daily Mail, "and Dan's on a long-term contract with the team. "I think it would be highly unlikely he will be anywhere else next year," Horner added.
Image: RedBullContentPool