Mercedes boss Toto Wolff has revealed he is trying to lure departed chief Ross Brawn back into the team's F1 garage.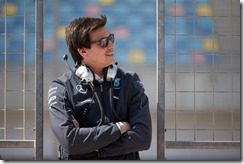 Brawn, 59, stepped down at the end of last year but, during his first year of retirement, he has already been linked with a return to Ferrari, having even visited the fabled Italian team's base recently. Wolff has now told the Telegraph that Briton Brawn can take some of the credit for Mercedes' current dominance of F1, insisting he still would have a valuable contribution to make.
Austrian Wolff said it was Brawn who "realised" what Mercedes needed to do in order to succeed in the wake of Mercedes' 2010 takeover. "Ross Brawn realised in 2012 that it was not getting any better -– he started to recruit and to add some of the people to the organisation in key areas," he said. Wolff also hailed Brawn's input in other key areas. "If there is a heated situation on a race weekend, I am trying to imagine what Ross would have done. "If needed, I give him a call, but I can well see us missing Ross's calmness and experience in the heat of races, or in the heat of the championship. "Ross has a considerable part in the success of this year. It's a big shame he's not here," said Wolff. "I'm speaking with Ross regularly, and we are trying to get him to one of the next races to have a look at the team. "He was so important in building the base, and setting in place some of the structures, and we would like him to be part of the team and see what's happening this year. He's going to come eventually — he's promised to," Wolff added.
Image: Mercedes GP