There is an unconfirmed rumour that Mercedes AMG Petronas team considers that it would be a good idea to give Michael Schumacher a contract extension for two more years.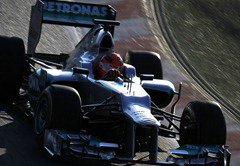 The current contract that seven world champion has with Mercedes and which was signed just before Christmas back in '09 will expire at the end of this year, but despite that many were surprised when Schumacher signed a 3 year contract to get back in Formula1 it seem very likely that he's chances to remain active within F1 competition are very good indeed.
  One must take into consideration that Ross Brawn confirmed last year that he's interested in keeping Schumacher as driver for the future: "First we need to ask Michael if he wants to continue before we are going to look for other possible drivers. But if we are going to take a step forward this season then I'm sure that Michael will want to stay and help further the team" said Brawn to the German publication Bild.
  Brawn never said for how long they want to extend the contract but Bild is confident that the plan is to keep Schumacher with Mercedes AMG Petronas until in 2014 making this a 2 years deal. Schumacher said many times that he did not take a decision regarding he's future yet and he's not planning to take one any time soon. "We have strengthened our team, now I expect an improvement in our development pace as well, I will decide at the right time."
  Michael Schumacher started he's Formula1 career in 1991 and since then he won 7 world titles, two of them with Benetton and another five with Ferrari after that he withdraw from Formula1 at the end of 2006 only to return to the competition in 2010 but since then he failed to score a podium finish. If he will make the deal with Mercedes he will remain in the competition until he'll be 45yo.
Image: © Mercedes AMG Petronas