Sebastian Vettel had a really bad afternoon and he was not impressed by Narain Karthikeyan driving or apologies.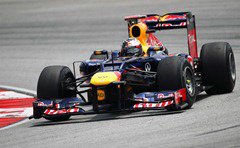 The reigning world champion finished the Malaysian problematic race on P.11 after he was strongly fighting for a 4th place. But that place was his for taking until he ran into Narain on lap 47 and got a puncture on his rear left tyre.
  After the race Narain apologised to him and to Jenson Button for the contacts that the cars had but he also explained that it was nothing that he could have done since Vettel turn on him to early and almost forced him off the track but that made little impression on Vettel who said: "We did our maximum to get up to fourth, but to then lose the race how I did is very frustrating," "Some people (Karthikeyan) need to look more where they are going. "
  "There were then problems with the car after the incident, but I wanted to see the chequered flag, even though there were no points for me. "Before the incident with HRT the way the race unfolded was good for us, so it's frustrating to lose it like that."
  But Vettel's got in even more problems with his radio gone and the team was unable to communicate with him: "Crucially we lost radio communication and that makes it very difficult in these conditions to know what's going on," said the Red Bull driver. "Today it was crucial to come in at the right time. Having no radio meant we were delayed getting the messages, and I didn't hear anything from the team at the end."
Image: © Red Bull