Sauber driver Sergio Pérez had made a fantastic race today in Malaysia, he had the victory in hand at one point but in the end he had to settle for 2nd place but this was felt like a victory by everyone in Sauber F1 Team, and what better way to present what the team felt than let the people who made this result possible to talk about it: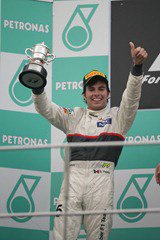 The Sauber F1 Team is over the moon after having finished second in a very difficult Malaysian Grand Prix with Sergio Pérez at the wheel of the Sauber C31-Ferrari. Sergio had started ninth and was one of the two drivers of the pack who changed tyres from intermediate to rain tyres after the very first lap. With the rain becoming too heavy, the race was interrupted for 51 minutes after nine laps. Thanks to the team's strategy, Sergio was third on the grid for the restart. He managed the remainder of the race with a very strong drive, chased winner Fernando Alonso and finally finished second. 
  For his team mate, Kamui Kobayashi, the guessing and gambling with the weather conditions didn't pay off that well. The team took different options for the two drivers in order to maximise its chances. Kamui made an excellent start and then had to deal longer with the increasing rain on intermediate tyres. Before his late stop for rain tyres he was running ninth, but for the restart he was then only 16th. Later he retired after 47 laps because of brake problems.
Sergio Pérez: 2nd
Start on intermediate tyres, after 1 laps change to rain tyres, restart on new rain tyres, after 15 laps to intermediates, after 41 laps to hard dry tyres
  "It is a great day for me. The team did a very good job and I feel very happy for them. It is a really nice feeling to have been on the podium here, but I think victory was also within reach. Twice in the race I was catching Fernando (Alonso). On the final stint, when I was on the hard tyre compound, my tyres had degraded quite a lot. It wasn't easy and I went wide and touched a curb. I actually was lucky not to go off. Before that Fernando had just pitted on the perfect lap for dry tyres, just one lap before me, and I lost a bit of ground to him. It was very difficult to make the right calls today and I want to thank my team. They always called me in at the right time, the first stop after lap one was especially important and it was also good to take the hard compound in the end, as the medium compound was not working too well for us. It is only our second race in 2012 and I think we have a great season ahead of us. I knew we had potential to fight today, our car is not far away from the top cars and a good crew and a driver can also make a difference in such conditions."
Kamui Kobayashi: DNF (leak in the brake system / retired after 47 laps / 13th position)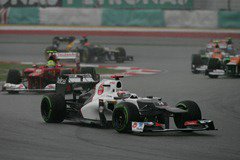 Start on intermediate tyres, after 5 laps change to wet tyres, restart on new wet tyres, after 13 laps to intermediate, after 40 laps to medium dry tyres
  "It is great for our team to have scored so well today, but for me personally, of course, it was a very disappointing race. Technically I struggled with the brakes and that was then also why I had to give up after 47 laps. Besides that for me the strategy didn't work out, which, of course, is always easy to realise in hindsight. I had a good start but then it was a long time before I changed from intermediates to rain tyres. It was not easy to keep the car on track, and almost as soon as I had changed the red flag came out. But nobody can know this in advance. Later in the race then it was the other way round. I would have loved to get dry tyres, but we were expecting more rain so, again, I could not get rid of the intermediate tyres."
Peter Sauber, Team Principal:
  "What a great result! Sergio drove an outstanding race and rose above our expectations. What surprised me most was the fact that he was very competitive in all conditions and with all tyres. Whether they were wet, intermediate or dry tyres he was always one of the fastest drivers on track if not the fastest. This obviously also shows the huge potential of the car. And I want to pay a big compliment to Giampaolo Dall'Ara and his team for doing a great job with the strategy. Thanks also to everybody in the factory in Hinwil. I'm sorry for Kamui who had to stop due to a technical problem. Nevertheless it was a great and important day for the team."
Info & Images: Sauber F1 Team