The teams and drivers may have leapt 8,000 kilometres from Suzuka to Sochi, but Jules Bianchi remains in the minds of the entire F1 world.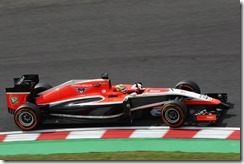 As was and is still the case with F1 legend Michael Schumacher, protagonists and pundits are now turning to the opinions of external experts to know more about the predicament the talented 25-year-old Frenchman finds himself in. His family late on Tuesday confirmed that Bianchi suffered a "diffuse axonal injury" when he hit a recovery vehicle during the wet Japanese grand prix on Sunday. "I hope they understand how grateful we are for their courage in talking to us through a simple, honest press release," former F1 doctor Gary Hartstein wrote in his blog.
Hartstein has been a critic of the manner in which Schumacher's family and management have kept his legions of fans essentially in the dark about his brain injury. Nonetheless, the Bianchi camp's news on Tuesday has triggered a frenzied round of speculation as to what it really means. The health consultant for French news BFMTV, Alain Ducardonnet, said the fact the family named diffuse axonal injury is "Not what we had hoped for". "So now we will have this seemingly endless wait for whether these lesions will heal, and especially if they are going to have irreversible consequences," he added.
Some of Bianchi's supporters have taken comfort in the news that Ferrari has despatched professor Gerard Saillant, an FIA-associated doctor also closely linked with Schumacher and FIA president Jean Todt, to the Mie hospital. But when asked what he can do for Bianchi, Hartstein told 20minutes.fr: "Nothing. "I think he is there much more for moral support, because he was also there in 2010 after his (Bianchi's) serious accident in GP2 in Hungary. "He (Saillant) has not performed surgery for years and his specialty is in spinal injuries," Hartstein added.
Bianchi's situation has also triggered wild reports about the repercussions for formula one, including the need for rule changes and possibly even roof coverings or canopies over the drivers' heads. Hartstein said: "The fact that Bianchi is still alive shows how safe F1 is today. "I think formula one has reached an extremely high safety standard. But it is clear that anything can always be better."
Mika Hakkinen, who almost died when he fractured his skull in a crash in Adelaide in 1995, said after Bianchi's accident that covering the cockpits should not be ruled out. "If it can save lives, we should look at any option that further reduces the risks," the double world champion told Austrian broadcaster Servus TV. Meanwhile, Speed Week reports that rumours Japanese authorities seized parts of Marussia's equipment before the team could travel to Russia are not true. However, there remains no information about how the team will tackle this weekend's grand prix at Sochi mere days after the Bianchi crash.