F1's three angry teams seemed slightly less angry on Saturday after a meeting with Donald Mackenzie.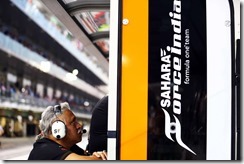 The usually paddock-shy CVC chief made the trip to Abu Dhabi to meet with Bernie Ecclestone and Lotus, Sauber and Force India, with the three teams crying foul over how the power and income is distributed within formula one. Those in the F1 paddock said the body language of the three team chiefs, so exasperated in recent weeks that they had reverted to boycott threats, was notably more upbeat after the meeting broke.
Perhaps the looming threat of an investigation by the European Commission's competition arm had changed things, with the Telegraph reporting that Ecclestone even apologised for suggesting they were holding out "begging bowls". "They (Ecclestone and Mackenzie) both understand that they need to take action," Lotus owner Gerard Lopez said. "They are going to go away and look at a number of things." It is believed another meeting, in Geneva early next week, has now been scheduled.
Reuters quoted Force India supremo Vijay Mallya as observing that Ecclestone and Mackenzie have "done their homework" in past days and are now "seriously thinking" about the problem. It appears F1's most struggling teams, however – Caterham and Marussia who are already under administration – will not be the beneficiaries of any forthcoming help. Speaking on Saturday in Abu Dhabi, Ecclestone told the local newspaper The National: "They (the teams) should never have been here in the first place." Asked if the backmarkers will be on the grid in 2015, he answered: "I hope not. We don't want people walking around with begging bowls."