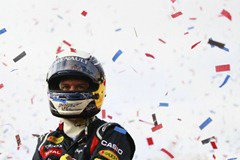 The last two world titles won by Sebastian Vettel in 2010 and 2011 impressed a lot of people around the world and including in he's home country, next Friday as a token of appreciation for he's performances Vettel will receive Germany's highest sports distinction called "Silver Bay Laurel Leaf".
  Sebastian Vettel will travel to Berlin on 24th February to receive he's award flying strait from Barcelona were he will be present for the second official testing of the 2012 Formula1 preseason. The award will be presented to him by the German President Christian Wulff.
  The award is given every year since 1950 to the teams and athletes who are able to obtain very good international results for many consecutive years. Vettel, who is 24yo now, became the youngest F1 World Champion in 2010 and was also the youngest driver able to repeat the performance in the very next season. The only other German F1 driver to get the award is the multi world champion Michael Schumacher.
Image: © Red Bull