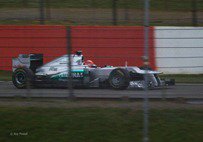 Mercedes AMG Petronas has made it's new W03 shakedown this Thursday in Silverstone just before to pack up and head for Barcelona where it will take part in the second official preseason testing which will start on 21st February.
  The new W03 made 100km on track, using a test version of the new Pirelli tyres. Michael Schumacher and he's teammate Nico Rosberg both get on board and run for a few laps each. "It is difficult to judge the car's behaviour right now  because we ran on test tires, but the car has done everything that was supposed to do. There is a limit of 100 kilometres, so that Nico made ​​50 in the morning and Michael another 50 in the afternoon. We are ready for Barcelona, " explained Norbert Haug, vice president of the team.
  Details of the new car are still unknown in detail, but on Friday has appeared a spy picture, taken by Roy Powell, in which it is clear that the new W03 also has and "platypus" nose, leaving McLaren the only team without this feature in it's design. "The nose has a step, as we have seen. This is a very good and dynamic solution" noted Haug.
  On the other hand, Haug believes that in addition to the work done in Jerez with the new Pirelli 2012 tyres, using the simulator at the factory leads the team forward and finds them in good shape: "We worked hard on the simulator and we learned something driving the old car using the new Pirelli tyres, we also used the blown diffuser while gathering informations. We hope be able to transfer what we've learned to the new car. "
Mercedes AMG Petronas has also released a teaser video using a helmet cam to let us see a fast lap around the Silverstone Circuit:
thank's to f1fanatic.co.uk for the pictures