Last year Red Bull was the team to beat but thinking on this year Bahrain race Mark Webber reckons that a victory will feel very good.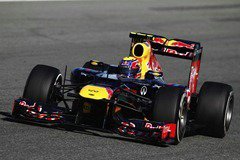 If in 2011 Red Bull won 12 of the 19 races, this year the team was presented with a different challenge and the team was struggling for qualifying and race pace. With only one podium scored by Sebastian Vettel in Australia where he managed to finish second and three 4th places scored by the team, Red Bull's find themselves in an unfamiliar position.
Mark Webber thinks that Bahrain this year is complete mystery because the Pirelli tyres and DRS system were never used here before and also the temperatures of the track will be a lot higher than what the teams have found in the previous three races therefore a top 3 finish will be a very good result for the Milton Keynes outfit.
"We haven't been to the circuit for two years and the last time we raced on the current layout was in 2009. We also haven't been there with Pirelli tyres or the DRS so it's going to be interesting to see how this new features will work; the ingredients are all there for another exciting Grand Prix." said the Red Bull driver. "It's going to be important to understand the tyres quickly and you need good top speeds and very good brakes. It's a hot race a lot hotter than it was in Australia or China more like how it was in Malaysia. It would be nice to get a podium before we go back to Europe."
The double World Champion Sebastian Vettel expects the race to be a hard one considering that the track is build in the desert and the environment is not exactly friendly around there. "The track requires a lot from the drivers because the constantly changing character of the corners means you never really get the time to settle in to lap," said the German driver. "Also the track is build in the middle of the desert, you have to manage the sand there. It moves with the wind, so it can suddenly appear in new places on track on each lap so you're never quite sure where it will be slippery."

"For teams, it's always a challenge to anticipate the grip levels for the race. In Friday Practice when the track is still "green", you often require a different set-up than you need for Sunday. Due to the nature of the circuit, the brakes are in high demand".
Info: LiveSports24 Image: Red Bull Content Pool