Ross Brawn and Ferrari have played down the former Mercedes boss' visit to Maranello this week.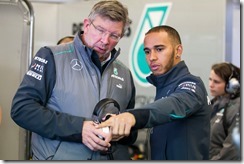 Specialist Ferrari journalist Leo Turrini on Tuesday revealed that the 59-year-old Briton, who was Ferrari's technical director during the ultra-successful Michael Schumacher years, was at the team's headquarters and Fiorano test track. Brawn, however, played down suggestions of an impending return to F1 and Ferrari, telling Italy's La Gazzetta dello Sport his trip to Italy this week was "never a secret".
And he told the BBC that he was at Ferrari "with a group of friends as part of a tour of Italy, no more than that!". Brawn said the group, who are also visiting "as many vineyards as possible", drove Ferrari road cars around the Fiorano track. A Ferrari spokesman confirmed that Brawn's visit was "simply an Italian fantasy tour with friends, scheduled for some time".