Azerbaijan could be set to make its debut on the F1 calendar much earlier than first expected.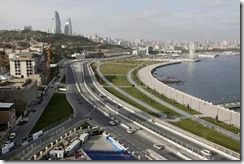 We reported last week that plans are racing ahead for a street race in the oil-rich former Soviet state's capital Baku. Bernie Ecclestone had said 2016 was the most likely race date, even though Azerbaijan officials "are talking about 2015". "We have signed the deal with Bernie Ecclestone and will announce it officially with an event in Baku shortly," sports minister Azad Rahimov confirmed.
The Associated Press claims the contract is actually for a debut race in 2015, not 2016. "Formula one will be held in Baku in autumn 2015," sports ministry spokeswoman Samaya Mammadova confirmed, revealing that a contract signing ceremony was being planned for later in May. Now, Germany's Welt newspaper has raised the prospect of a race in Baku this year — 2014. It would reportedly fill a potential three-week gap between the Japanese and US races later this year, due to the increasing uncertainty now surrounding the scheduled inaugural running of the Russian grand prix.
The Crimean crisis, and the growing threat of war between Russia and Ukraine and escalating western sanctions, have cast major doubt on the formula one race in Sochi. Also in doubt is the Russian round of this year's German touring car series, scheduled to take place in July at the Moscow Raceway. When asked if DTM will be going to Russia in 2014, series organiser Hans-Werner Aufrecht answered: "As of today (yes)." The DTM organisation ITR said: "As the organiser, we are naturally watching the current developments very closely, aware that our race at the Moscow Raceway is dependent on the political situation."
ITR admitted that in the case of a cancellation, "We would have an alternative, as anything else would be irresponsible and unprofessional." Die Welt claimed that F1's potential replacement for Sochi has "already been established" — Azerbaijan.