Jean Todt insists his hands are tied after F1's most powerful teams vetoed the move to a budget cap for 2015.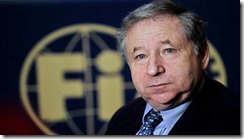 It has been suggested former FIA president Max Mosley, whose antagonistic approach stands in stark contrast to the low-profile Frenchman Todt, would have found a way to force the teams to embrace the cost-cutting crisis. But Todt told Italy's Autosprint he was powerless to interfere with F1's clear processes for approving rules. The first calls in 2014 were for tweaks to this year's radical rules, featuring controversial fuel saving and quiet turbo V6 engines. "First, I do not have the power to change the regulations," he said. "And if I did, perhaps by doing what (Ferrari president Luca) di Montezemolo desired, can you imagine what the reaction would be?
"My job is to ensure the sport is administered in the right way. Then, as we know, discontent was expressed, but as so often happens, those who complain are much louder than those who are satisfied. "This is a world of competition, where those who do not win usually complain," Todt smiled. "It has been like that forever. "But this year there is a new decision-making body, the Strategy Group."
Todt wanted the group – comprising top teams Ferrari, Mercedes, Red Bull, McLaren, Lotus and Williams – to follow through with their earlier acceptance of a budget cap for 2015 and beyond. The group, however, ultimately vetoed the change, to the fury of the embattled smaller teams. "I am convinced that F1 is far too expensive, and that something should absolutely be done," said Todt. "But for us, as the governing body, we have more or less zero influence as to the costs. "But I feel that we do have a responsibility to intervene in this environment, because the bigger teams are taking the lion's share of sponsorships.
"I did not believe that we could control costs with a cap," the former Ferrari boss admitted, "but I told the teams 'If you show that it is feasible, I'll be happy to impose a limit'. "Most of the teams had agreed, but now I do not understand why the six members of the Strategy Group are opposed. "Am I disappointed? Yes, in a sense I am, because now it will be more difficult to achieve the reduction goal. We will have to do it through the technical and sporting regulations."
Todt revealed that the FIA has already prepared a "dossier" of various rule-change proposals, that will "reduce the gap between the large and small teams" without affecting the spectators. "We need to start something already in 2015," he insisted, "through the Strategy Group and the F1 Commission. Overall we have 18 votes, so if there are nine or more then it will work. Otherwise it will not (pass)."