Still lot of work to be done by Caterham F1 Team in their efforts to catch up with the midfield teams and all players within the team are giving their bests to achieve that goal.
At the end of a productive day here are a few quotes from the drivers, Tech Director and Renault Support Leader: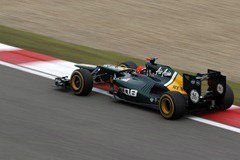 Heikki Kovalainen: "I pretty much got as much as I could out of the car today. I made a small mistake in the final corner on my second run that maybe cost me a couple of tenths, but the car felt well balanced and there probably wasn't any more to come in Q1. On my first run I was blocked by Maldonado on the back straight, so we'll see what happens with that, but overall I'm pretty pleased with my performance so we'll see what happens tomorrow."
Thierry Salvi, Renault Sport F1 Support Leader: "From the engine perspective the conditions today obviously suit us better and we saw that the strategies we were running worked. Today it was about maximising outright top speed over the two straights whilst giving the drivers the engine characteristics they look for in the slower corners and we can be reasonably pleased that we have achieved both objectives."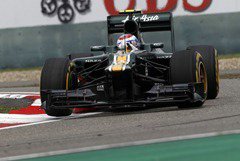 Vitaly Petrov: "I've had a couple of issues today with finding the right balance, but on the second run in Q1 I had a pretty good lap and I think it all came together to put that time in. We know from the first two races we can fight on Sundays and we've looked relatively easy on the tyres, so with a good plan and a bit of luck maybe tomorrow can bring us something good."
Mark Smith, Technical Director: "The team here in China and back at the factory have been working hard on some specific areas, particularly on ensuring we can get the most out of the tyres when it matters. Today we saw positive results on both cars, and having tweaked the setups overnight we saw Heikki record a time just under 8/10ths from the car ahead, which is a step forward for us in qualifying. Last year we were almost 1.5 seconds behind the car in front in Q1 so that shows we are progressing. Now we turn our focus to the race and the clear aim is to keep up the race pace we showed in Australia and Malaysia and make sure both cars cross the finish line."