Bob Bell could be the next piece of the puzzle, as Ferrari looks to end its slump and return to the top of formula one.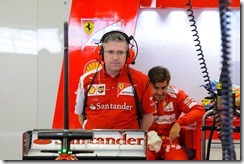 Already reported by multiple authoritative sources is that the fabled Maranello team is prepared to 'break the bank' and sign Red Bull's Adrian Newey, who is already paid a rumoured $12 million per year. "Ferrari badly want Adrian Newey," a Ferrari source told the Guardian newspaper. "I don't know whether they have talked to him yet, but if not, they will."
But Red Bull team boss Christian Horner said the 55-year-old is happy at Milton Keynes. "He has made his feelings clear to me about the team," Horner commented after the outbreak of the latest rumours. "The speculation is purely that. You can understand why Ferrari would be looking."
Newey, however, may not be Ferrari's only target. Ross Brawn has already been linked with a return to Italy, and now the Spanish newspaper El Mundo Deportivo claims Bob Bell is another possible recruit. It was announced last month that Bell will be leaving his role as dominant Mercedes' technical director, the German team saying he is seeking "new challenges" elsewhere. "It is rumoured Brawn, Bell and Newey could bring order to Ferrari's technical department," said El Mundo Deportivo.
According to Italy's La Gazzetta dello Sport, Ferrari is also close to acknowledging that – given Mercedes' utter dominance – "It is already time" to begin thinking about the 2015 season. It is believed president Luca di Montezemolo had said Barcelona, Monaco and Montreal are key races before Ferrari must decide if focusing on the F14-T's successor should be the main objective.
Also rumoured is that Ferrari's turbo V6 engine project for 2015, codenamed 666, is currently more advanced than it normally would be at this time of year. Yet another rumour is that Fernando Alonso has finally lost patience waiting for a title-winning Ferrari, and is now casting eyes at Mercedes. Mercedes team chairman Niki Lauda, however, is quoted by Speed Week: "We have two top drivers already, both going for the win. So what would we do with Alonso?"