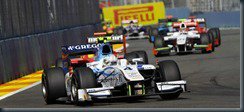 Giedo van der Garde will be the 3rd pilot of the Caterham F1 Team, the rumor was a few weeks before that he might get the last HRT F1 seat, but it seems that he waited a little longer and now he has bean confirmed as the Caterham 3rd driver. Caterham will allow Giedo to run in the tests at the Jerez and on the other preseason test season as well as in the Friday practices during the upcoming Formula1 season.
The 26th year old Dutch man has already a strong career involving the single seaters, in 2012 he finished 5th in the GP2 Championship and back in '08 he won Formula1 Renault 3.5. He also made several tests in the past with teams like Force India, Super Aguri and Renault.
  Giedo van der Garde said that he's very happy to a part of the Caterham F1 Team and he also feels very proud of the new step he's taken in the development of he's carrier. Giedo added: "The team is very new and there are many fantastic people here", the Dutch driver has also only good words about he's new boss Tony Fernandes: "He's a very ambitious guy and he brought a lot of good people to help the team and to assure it's future" Giedo seems to be extremely happy for the moment and he's also eager to continue he's development with the car and the new team in the future.
  There is a very positive atmosphere in the Caterham F1 Team and everyone there is assuring us that this year the team will fight for points in every single race if that is going to happened remains to be seen but Giedo seems to think that he's ready for the big circus and he also has what it takes to be a full time pilot for the team in the future: ""I fell very strong now, I'm in a very good shape physically and mentally" of course what is also contributing to Giedo good vibes about Formula1 is the fact that he already knows many of the drivers that are currently competing in the championship and he kinda feels at "home" here.
  Tony Fernandes also sees him as a future full time pilot for the Caterham F1 Team, because as he said he was watching Van der Garde career very closely for some time now: "He is a very exciting prospect that we have been monitoring since the early days of our team, and we are all looking forward to seeing how he can help us develop throughout the season as we take our next steps towards the established midfield teams ahead," Tony also added: "His performances in GP2, particularly in 2011, mark Giedo out as one of motorsport's brightest prospects, and securing him as reserve driver is a real coup for our team."
  Keeping this declarations in mind it seems that Vitaly Petrov is left to linger and search for some other team to offer he's services as a 3rd pilot. With less than 4 days before the official tests begin many teams have not presented a 3rd pilot and given the circumstances a third role is better than nothing.