with two days before of the first official preseason testing Lotus decided that is time for us to see the brand new 2012 challenger called E20:
here are the first images with it:
no launch this far while the team twitted that we wont see it live
but here the first image and the video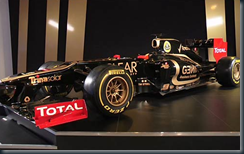 we'll bring you more information's and images about Lotus's E20 as soon as possible, stay tuned.
What we do know this far is that the name E20 was chosen because at the Enstone factory has built 20 car chassis so far and this is the team recognition of the factory's importance, Eric Boullier explains:
"Our naming of the chassis is to recognize Enstone's importance to the team's evolution, highlights our recognition of the contribution of the facility and the personnel who work tirelessly every year to produce the very best car possible.
"We certainly hope that this is the case with the E20 and we are looking forward to revealing the car to the world and seeing it out on track for the first time.
"There are a number of technical changes from last year and we have an exciting new driver line-up to extract the maximum from the E20 through the twenty Grand's Prix of the 2012 season, including the 500th race for this team through its different incarnations. We hope that the E20 proves to be a performing Enstone design."
Images: © Lotus F1 Team