Gene Haas has a close eye on Marussia as the backmarker team's collapse is completed over the next few days.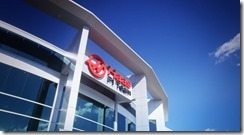 On Tuesday, the assets of the failed Banbury-based team will begin to be sold at auction, and Haas – whose own team will debut in 2016 – could be a significant bidder. "We have got the Marussia auction list so I think we will be bidders for some of that stuff," the Nascar team co-owner told F1 business journalist Christian Sylt.
On Marussia's list are items including full cars, steering wheels and bodywork but also factory furniture, computers, spare parts, pit equipment and transporters. Haas said he is determined that his F1 outfit, to be based alongside the Stewart-Haas Nascar team in North Carolina, will not make the same mistakes as Marussia and Caterham. His approach will see the cars designed in America, with a satellite headquarters for the race team somewhere in England. "A lot of the teams in the UK build everything themselves," Haas told the Guardian. "They seem to have this English mentality that this is the way it has to be done and that is just not our business model at all."
As for the intended UK base, he added: "We looked at a place in Abingdon (Oxfordshire) and there are several available in that area. I guess it might be a possibility to take a look at the Marussia HQ too." With Marussia and Caterham already collapsing, further team losses could result in top teams like McLaren and Ferrari having to field third cars to bolster numbers.
It is therefore interesting that those grandee teams have now signed the likes of Kevin Magnussen and Esteban Gutierrez respectively as third drivers for the 2015 season. "I still feel two teams have great challenges left to get to next year's grid," McLaren supremo Dennis said last week. "It is my intention to try to assist them because I think third cars are not good for formula one."