Lewis Hamilton will be penalized five grid positions in the Chinese Grand Prix after the team decided to change his gear box.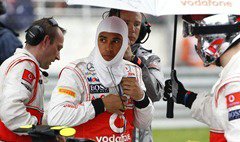 The Briton will lose the possibility to start the Chinese Grand Prix from Pole Position after the McLaren team confirmed that they need to change the gear box on the no. #4 single seater after they had identified a small problem with it less than 48h ago.
Because of this decision Lewis will start 6th at best, therefore his chances for winning the Chinese Grand Prix will be dramatically reduced, but we must not forget that China is a track where McLaren have done well in the past and they won 3 out the 4 last Grands Prix.
The young McLaren driver had the pole position in both of the Grands Prix that we had this year but unfortunately for him he failed to transform them into victories having to settle for 3rd place in both Australia and Malaysia.
Info and Image: McLaren