The official presentation of Ma Qing Hua took place this morning at the Shanghai international Circuit. The Chinese driver joins HRT Formula 1 Team's driver development programme with the team intending on creating a platform for the formation of professionals in the pinnacle of world motorsport.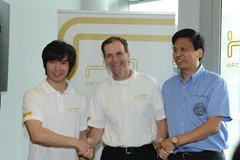 The 24 year-old driver born in Shanghai has taken part in various categories of national and international motorsport over the years and, after competing in competitions such as Formula Campus, Formula Renault and F3, Ma Qing Hua reaches Formula 1 at the hand of HRT. Ma says he feels honoured by this opportunity presented by HRT and feels ready to take the step into the pinnacle of motorsport and become the first Chinese driver in Formula 1.
Alongside Ma Qing Hua were Luis Pérez-Sala, HRT Team Principal, and Xiang Tong Chun, Secretary of the Federation of Automobile Sports of China.
Ma Qing Hua: "First of all I must say thank you to everyone for their support and for giving me the opportunity to share with you how honoured I feel because of this opportunity presented to me by HRT Formula 1 Team. I know that I will learn a lot from everyone, especially my teammates, who will surely pass on to me their experience and knowledge. From now on my main objective is to study and learn a lot quickly, I must extract as much information as possible and take in both the most basic concepts and the most technical and specialized ones of Formula 1. Thank you very much to everyone for all the support you have given me".
Luis Pérez-Sala, Team Principal: "This year we have two experienced drivers, Pedro and Narain, who we're very happy with, since they're helping us to develop in the path that we wish to follow. We also have a driver development programme which started with Dani Clos and that Ma Qing Hua has joined in order for him to develop alongside us. I've spent years forming young talents and that is why I know Ma from a few years back and I know what his potential is. Before incorporating him we tested him on our simulator in Barcelona and with a World Series car in Valencia. The data which we obtained proved what we already believed, that he is a very good driver. He's very secure, sensible in the car and has a strong and balanced mentality. Because of all this we believe that we can help him in his development as a Formula 1 driver, we want him to test as much as possible and, if possible, for him to take part in the young driver tests this year".
Xian Tong Chun, Secretary of the Federation of Automobile Sports of China: "Before anything I must thank everyone for attending this event, I welcome you all to Shanghai. I want to congratulate Ma Qing Hua for this new stage in his professional career that starts at the Spanish outfit HRT Formula 1 Team. In 2004 China entered Formula 1 with the inauguration of this circuit in Shanghai and I thought to myself that in ten years we could maybe see the first Chinese driver inside a Formula 1 car. Not that many years have had to pass for that to practically come true and because of that I am extremely proud to see what Ma Qing Hua has achieved. He is an excellent driver, who has taken part in numerous championships, national and internationally, and last year he won the Chinese Touring Car Championships, so I don't doubt his potential. I must thank his representative for having discovered this great driver and HRT for giving him this opportunity to form a part of their driver development programme".
Info and Image: HRT F1 Team