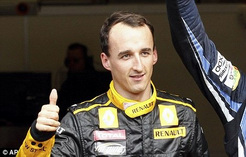 The polish driver started 2012 equally as bad as he started 2011. Still recovering from his old Rally accident, the young driver has fallen on ice and broken his right leg. The incident occurred on an icy road near his home in Pietrasanta, Italy.
Kubica, who is 27 years old now, was taken to hospital and the X-ray scans revealed  that he'd re-opened the fracture in his right tibia that he sustained in his rally crash 11 months ago. Meanwhile he was transferred to the same hospital where he did all the operations and the treatment after his horrific rally crash.
Kubica was understood to be facing several months of recuperation after undergoing operations to repair the damage to his partially severed right forearm and numerous fractures to his right elbow, shoulder and leg. This new fracture is believed to set back his recuperation schedule for at least 3 weeks.
The accident will no doubt came as a huge blow to Kubica who has already been replaced by Kimi Raikkonen at Lotus Renault this F1 season. Despite effectively being dropped by Lotus, Kubica hadn't given up hope of returning to the grid in 2012 with reports suggesting he could replace Felipe Massa at Ferrari if the Brazilian fails to find his form this year, although Stefano Domenicali has play down those rumors.
In addition, Red Bull have also been linked with a move for Kubica for 2013 should they decide to part company with veteran Mark Webber when the Australian's contract expires at the end of next season.
Info: DailyMail.co.uk