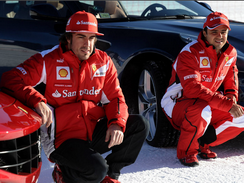 With Ferrari's Wrooom event well underway yesterday it was the day when Fernando Alonso and Felipe Massa were scheduled to meet with the fans. Once again it was the Miramonti Canal that provided the backdrop to the meeting between fans and the Scuderia Ferrari drivers, who as we all know are in Madonna di Campiglio for the weeklong Wrooom event.
  At the end of the day in which they took part in the customary press conferences before tacklong the snow covered slopes, Fernando Alonso and Felipe Massa got up on the stage built up at the end of the 3-Tre piste that hosts one of the rounds of the Skiing World Cup.
  In a short interview session arranged for the enthusiastic spectators at the event, both Ferrari men explained that, as yet, they knew little about their new car. "For now we have only got a rough idea of what it's like, but we can definitely expect it to be competitive, because everyone at Maranello has been working very hard," said Fernando. Felipe underlined the importance of getting off to a good start. "If we want to fight for the title we have to be competitive right from the start," before joking that the only certainty was the car would be red!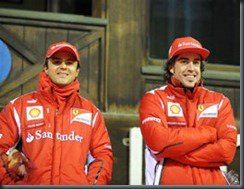 The Spaniard went on to reveal how in the world of Formula 1, speed is even a factor when it comes to one's feelings. "The disappointment after missing out in Abu Dhabi in 2010 passed quickly, as one also quickly forgets the joy of winning. In our work, everything goes quickly!" Asked about the simulator, Massa explained its importance, given the few test sessions available and then added with a smile that is favorite track is actually the demanding 3-Tre. "It's the one I feel most comfortable with and I have no problems!"
  Today is the final day of the event organized by Philip Morris International on the slopes of the Dolomites, which has brought together the Ferrari and Ducati teams and the specialist Formula 1 and MotoGP media. It will feature a race on the frozen lake when the four wheeled men will take on their two wheeled counterparts at the wheel of go-karts and Fiat Cinquecento's.
Info: Ferrari Magazine