Just as news about Nico Hulkenberg emerged on Monday, Giedo van der Garde dropped a big hint about his own future in formula one.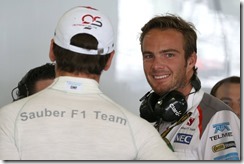 Force India announced that 27-year-old German Hulkenberg is staying put for a second season with the Silverstone based team in 2015. "I am convinced he is one of the best talents on the grid," said team supremo Vijay Mallya.
But not long after the announcement, it was the reserve driver at another team that was making noises about his own prospects for next season. 29-year-old Dutchman van der Garde, who signed up as Sauber's reserve this year after losing his Caterham race seat, issued a 'tweet' along with a photograph of himself walking alongside Hulkenberg in a F1 paddock earlier this year. "Congrats buddy," he said, referring to Hulkenberg. "Hopefully we can have some nice fights next year, like the old days." Van der Garde completed the 'tweet' with a winking smiley.