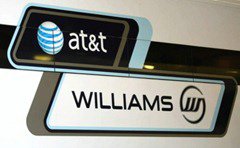 As many of you might already know, the contract between AT&T and Williams F1 Team expired in December and has not been renewed.
This news continues a series of problems for the team, from having the worst season in history in 2011, to a more difficult season in money terms in 2010 which prolonged to 2011 as well despite the funding that Pastor Maldonado brought with him from Venezuelan PSVDA oil company.
Rubens Barrichello's seat is in danger if he cannot get some sponsorship to the team and even in that case he might not be reassigned for 2012 since there is more "young blood" out there and with bigger pockets too.

The rumor is now that Williams is negotiating with Embratel, the Brazilian telecommunications giant which backs Bruno Senna in Qatar to become their title sponsor and also some talk was rumored with Vitally Petrov and possibly with Adrian Suttil who brings with him the German computers manufacturer Medion.
So all in all  this could be a new begging for the a team that was "born" back in 1977 and since then won 9 Constructor Championships and 7 Drivers Championships having no less than 113 race victories, 126 pole positions and 130 fastest laps. Let's all wish them the very best for the 2012 Formula 1 Championship.
Images: Google Images