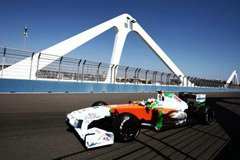 FIA Changed the rules a bit for 2012 and among the changes now it's mandatory that the cars have to pass the crash tests before the pre-season which is scheduled to begin on February 7th. Having this new regulation in play  many have though that many of the smaller teams will adopt Mercedes strategy from 2011 and will not be present for the round of  testing with the new car but instead they would bring the 2011 season car the but Force India will not be among them, as Andrew Green their technical director said that all is ready at Force India informs Racer.com.
"We're on schedule, that's the good news, even that it's been a little bit tougher this year, having to homologate the chassis prior to testing. So there was a little bit of extra planning involved to get that sorted. The chassis has been homologated since December. There were a lot of fingers crossed! You're hoping everything does what all the analysis says it should have done. It's always nice when you reel off the tests one by one without any dramas at all. It's a real credit to everybody." said Andrew
Andrews added that he's particularly pleased with the team's achievements because they've been force to prolong the development of  2011 VJM04 due to Toro Rosso's good shape from the end of the season and because the rival was getting closer to them.
Green added: "It was such a close 2011 season, fighting where we were fighting in those last few races," "We didn't know which way it was going to go. We weren't really anticipating such a strong response from Toro Rosso near the end of the season – they seemed to have a reasonable upgrade around Suzuka time. It's quite unusual for a team to come up with such a huge change so late in the season".
"So, the concentration was right until the last race in Brazil. You could say that, from that point on, it's been 100-percent focus on the new car for us."