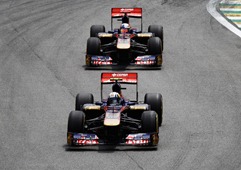 Helmut Marko does it again, and speaks loud his ideas, this time he's targets were the ex. Toro Rosso pilots Jaime Alguersuari and Sebastien Buemi and they were deemed as "not winners". According to Autosport.com, the Red Bull adviser thinks that to Jaime and Sebastien was given enough time to prove their skills and if they have the potential to become Grand Prix winners and according to him they have both failed to prove that, and this is why they were kicked out.
Sebastien and Jaime start driving for Toro Rosso back in 2009 and while Buemi started at the beginning of the championship, the Spaniard only came in the middle of the Formula1 championship.
While Buemi secured a position for 2012 being the Red Bull's 3rd driver Alguersuari future remains uncertain and if until a few days ago HRT was rumored as a possible option, following he's declarations it seems that to drive for HRT was never of any interest for Jaime as he said that if he goes there it will only take a step back in he's carrier.
Toro Rosso team boss Franz Tost said last month that the driver decision had been taken to ensure STR remained a training ground for the next generation of Red Bull F1 stars rather than a home for established drivers. Marko – who oversees the firm's driver development – believes Buemi and Alguersuari had sufficient opportunities to show what they could do, and proved adequate rather than exceptional. He also added: "We haven't seen in them any possibility of growth. Both are worthy of grand prix racing, but for us that's not enough: we need winners."
Doctor Marko is also confident that Toro Rosso's role as a team in the future will not change and will continue to be Red Bull's training ground, while they will also have to keep developing more and more autonomously in the future. He shown also confidence that Toro Rosso's deal with Ferrari for supplying the engine will continue as well even after the current contract will end in 2012.