Sauber drivers qualify Kamui Kobayashi and Sergio Pérez fourth and eighth respectively, the best ever qualifying results in their careers.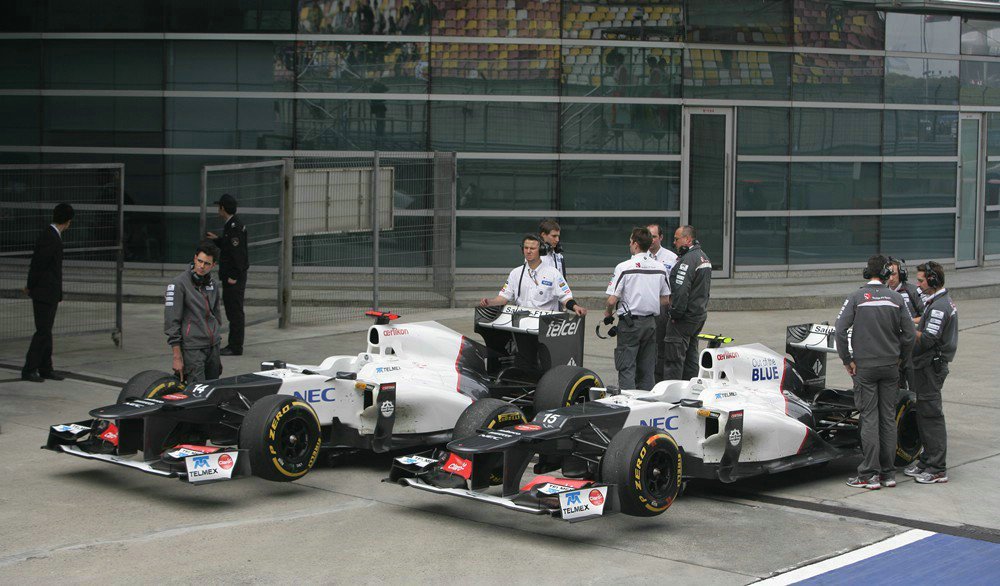 Kamui Kobayashi will move up to third on the grid on Sunday due to Hamilton's change of gear box, making  today's result for the team even better.
Following on from a successful Formula 1 Grand Prix in Malaysia for Pérez who finished second in the race, Sauber should be very upbeat with how their season is progressing and their potential for scoring lots of points this year.
Although Perez may be disappointed to qualify so far behind his team mate, his result in Malaysia should provide high hopes for a good result tomorrow.
Kamui Kobayashi:  "I am very happy, the team did a great job. For quite a while we have kept saying we need to improve our qualifying performance, and I think this was a clear improvement today. Apparently I will be starting from third position… This grid position obviously means a lot of chances. However, I am not a dreamer and the target remains the same: score as many points as you can. We have a strong car, normally it is also good on tyres and I am looking forward to the race full of confidence."
Sergio Pérez: "It is obviously a good qualifying result for our team. Personally I must admit I even hoped for more than P8. After the previous runs had been very promising, on the final lap in Q3, when I was on a fresh set of soft tyres, I suddenly had understeer. I don't know where this came from. In any case it will be a tough race tomorrow and I will give it my best."
Monisha Kaltenborn, CEO: "What a fantastic performance from both of our drivers! This has been the best qualifying result for  a long time and a great achievement for the whole team. Finally we are in a position after qualifying to exploit the full potential of the Sauber C31-Ferrari in the race, as we can start from much better positions than in previous races. Congratulations to the whole team!"
Info and images: Sauber F1 Team
Full 2012 Chinese GP Qualifying Results