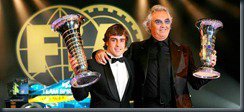 Without question Red Bull is the team to beat in 2012. In 2011 Red Bull reigned supreme from the race in Australia and has never let the guard down always maintaining a strong advance to the rest of the competition, which cannot really be called that if we think that Ferrari was only able to win once at Silverstone while McLaren shared the 1st place with Red Bull for another 6 times.
In the closing days of the championship at Ferrari a rumor emerged saying that Ferrari will prepare for 2012 an unbeatable structure and also admitted that will risk a lot more in designing the new car.
  According to Flavio Briatore, Ferrari will start again this year with 2-3 tenths behind Red Bull but if this difference won't be bigger than that, then Alonso will no doubt be World Champion for the 3rd time in 2012: "Red Bull has a great advantage, and have been working very quietly during these two months. I see Ferrari between 2 and 3 tenths behind the pace of Red Bull. If this is so in the first race, Alonso could win the championship".
  Alonso's old boss also insisted on the fact that Ferrari needs to give Alonso an competitive car and also stated that is more than obvious that the team must concentrate it's efforts in the first pilot, "The last championship was disappointing but Felipe Massa is recovering from he's terrible accident and he always was a fast pilot. Is also important that the second pilot must be in complete harmony with the No. 1 and has to bring he's contribution to the team. I would not waste much time in thinking who's the 2nd pilot but I would invest far more in building a competitive car for Alonso because the World Title is won by one pilot alone and this is why I would focus my attention in that pilot".
  In other words Flavio would risk everything on the Spaniard and considering that he and Alonso shared some glory a few years back he might be onto something, but time will tell and on the positive side there is only a little over one and a half months until the championship will start.