Kamui Kobayashi thinks Sauber could be in the hunt for a podium finish at the Monaco Grand Prix with the team having delivered a good step forward in pace with its latest updates.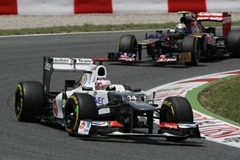 The Japanese driver bounced back from a hydraulic issue in qualifying for Spain, which left him 9th on the grid, to finish 5th after passing McLaren's Jenson Button and Mercedes's Nico Rosberg drivers with no help of the DRS. He reckons the Sauber F1 Team can expect even more on the narrow streets of Monte Carlo.
"I think our car will be better in Monaco than it was last year, because it has improved in slow corners," said Kobayashi. "In 2011 I finished fifth, so the target should be to finish higher up this year. However, even if you are given the best car in Monaco, in the end a lot is down to the driver to get the ultimate tenths of a second out of it."
Kobayashi thinks the nature of the current season, which has seen five different teams winning the first five races, points to the fact that Sauber too can fight for good results if it delivers a perfect weekend and has no doubts that many other winners will line up before the end of the season.
"We have seen five different winners in five races. So you could say almost everything is possible this year," he explained. "I believe we have a good car and good chances for good results. "

"The final outcome always depends on a lot of factors. But what you have to do for success is to get every small thing perfectly right over the entire weekend. And this is what I'm aiming at."
Commenting on the improvements to his C31 that were delivered in Spain, Kobayashi said:
"I think we have improved in the areas we wanted to. The car is better balanced through the corners now. In terms of stability I would say it is about the same, but stability always depends a lot on the track conditions."
Info: Racer.com