Kimi Räikkönen went fastest for Lotus F1 Team on the opening day of action here at round four of the FIA Formula 1 World Championship; the Bahrain Grand Prix.
Kimi set a 1min 34.154s lap using the medium compound tyres in hot conditions during the Friday afternoon practice session. Romain Grosjean – who is using a new chassis for this weekend – set the seventh fastest time of the day.
Both Lotus drivers ran with the latest front wing specification, as debuted by Romain in China while Kimi evaluated new rear suspension components during the morning session.
Kimi Raikkonen:
"It's nice to be fastest but you never know what the others are doing; we just stick to our programme and don't take too much notice of what else is happening. I actually made a mistake through the final corners on my fastest lap, so there's still more time to be found. It's tricky to get the setup right here and the wind can make a big difference; it might work for you one way but make things more tricky the other. It wasn't a bad start today; things aren't exactly where we want them but we're reasonably fast, so let's see what we can do from here."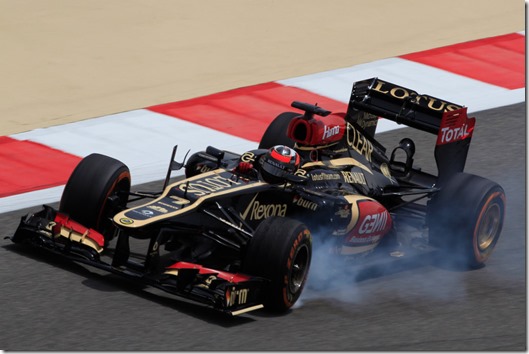 Romain Grosjean:
"The new chassis feels good. Today we've been working on getting the right correlation between chassis, setup and tyres to extract everything we want from it. It's easy to know what you want, the difficult bit is getting the little details sorted, but we're getting there and it's been a positive day. We've seen that Kimi was fastest today so that gives us a great target for tomorrow."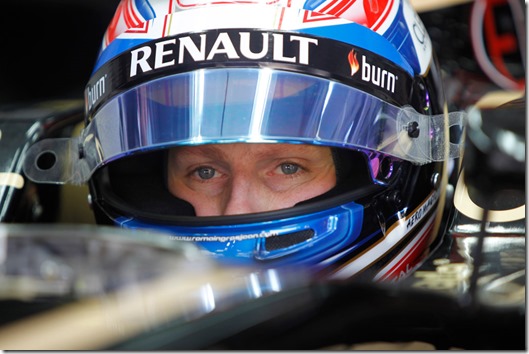 Alan Permane:
"It was a fairly standard Friday for us, which is a nice way to start the weekend. We looked at setup work in the morning before moving to longer runs, higher fuel race pace and degradation analysis on both tyre compounds in the afternoon, with no problems or interruptions to the programme. We were able to push both allocated compounds of tyres pretty well in the hot conditions today and generally the cars are well balanced. Romain's running a new chassis and overall is happy with the car so we're looking forward to an exciting qualifying session tomorrow."
Info & Images: Lotus F1 Team