The Marussia F1 Team were back on familiar asphalt today as the opening Free Practice sessions for Sunday's Spanish Grand Prix got underway at the Circuit de Catalunya.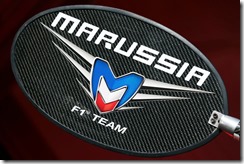 The Team spent two weeks here during pre-season testing and therefore today's practice sessions provide a good opportunity for back to back testing of the season-opening package versus the development updates being fielded this weekend.
This track was also the scene of Jules Bianchi's debut for the Marussia F1 Team, embarking on his first test for the Team just two weeks prior to the opening race of the season.
Jules Bianchi
"It's good to be back at Barcelona. It feels like only yesterday when I made my debut for the Marussia F1 Team in testing here, but so much has happened since then and I have learned a lot. The car feels quite different to when I last drove here and the improvements we have made are clear to see, which is good. The developments we have brought here seem to be working well so far. It was a big step to make going straight from the prototype to the option, which made it very difficult to get the most from the tyre. Extracting the most from the new components will take a little more time but once again we seem to have followed a good path and I hope we can be where we want to be this weekend."
Max Chilton
"A short day for me having sat out FP1 this morning with Rodolfo in the car, which makes for a rapid learning curve in the afternoon. It's a shame I didn't get the best out of the Medium tyre because of traffic and we still have some work to do to try to optimise the new components, but we have a good basis to build on overnight to better prepare us for qualifying. "
Rodolfo Gonzalez, Reserve Driver
"It was good to be back in the car again, although the weather and damp track made it difficult to get into a good rhythm. I had a very specific programme to work through with the new development parts, which we completed, and this will provide the engineers with plenty of data to compare with that of the race drivers today."
John Booth, Team Principal
"We have brought a fairly significant upgrade package to this race and so it was perhaps a little frustrating to be met with wet conditions this morning as we were unable to get straight down to the business of evaluating those parts in the way we would have hoped. Nonetheless, as the day has progressed we have been able to start the process of understanding what the new components bring us and the early signs are promising. Rodolfo hasn't had much luck with his FP1 sessions so far; today it was the weather which hampered his progress. We hope his next time out will prove more fruitful for him."
Info & Image: Marussia F1 Team