Mercedes driver Nico Rosberg took pole position at the Bahrain Grand Prix this Saturday.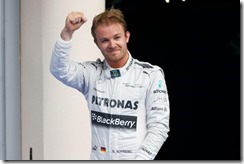 After finishing ahead of Sebastian Vettel of Red Bull and Fernando Alonso of Ferrari for the race that is being held amid widespread anti-government protests in the divided nation.
It is only the second pole of Rosberg's career and best performance of the year for the 27-year-old German who has retired early in two of the three races and was forced by the team to finish behind teammate Lewis Hamilton in fourth place in Malaysia.
Rosberg's timed 1:32.330 to finish 0.254 in front of Vettel – the three-time defending Formula One champion – and 0.337 ahead of Alonso, who won last week's Chinese Grand Prix. Alonso had the chance to better Rosberg's time but committed several errors on his final lap.
"Yes! Come on guys, that's how it's done," Rosberg screamed into the radio.
Hamilton, was fourth but will start ninth following a five-grid penalty for a gear box change. Because of that, Mark Webber of Red Bull, who was fifth but was given a three-grid penalty last week in China, will start seventh.
The penalty is a further headache for Hamilton. He has struggled with the hot and sandy conditions in practice, finishing no higher than 10th in the first two sessions and then damaging his rear left tire at the end of the third.
The Briton has had a surprisingly successful start in his first season at Mercedes after joining from McLaren. He has finished on the podium in the past two races and took pole position at the Chinese Grand Prix.
The dusty and hot track was not kind to Lotus drivers, with Kimi Raikkonen only ninth fastest and his teammate Romain Grosjean continuing his forgettable season by only managing 11th.
McLaren also struggled, fulfilling a prediction made by Team Principal Martin Whitmarsh that its car would have trouble with the Bahrain circuit. Jenson Button was 10th fastest while teammate Sergio Perez was down in 12th.
The race has come under fire from rights groups who have accused the government of trying to gloss over abuses, while anti-government opponents have used the run-up to the race to stage almost daily protests over demands for a greater voice in the Gulf country's affairs. Some of those protest on Friday turned violent, with clashes taken places between thousands of stone-throwing youths and riot police firing bird shot and tear gas.
Info: AP, Image: Mercedes GP
Like us on Facebook and follow us on Twitter for all the updates of the Formula 1 2013 season.